HUION 1060 Plus REVIEW
Size: 10×6.25 inch
Pressure Levels: 2048
Hand Input Resolution: 5080 LPI (Lines Per Inch)
Height Reading: 15mm
Response Time: 233 dots per second
Compatible OS: Windows & Mac
Price: 86.99$
Product Link:
Huion 1060 Plus
Huion 1060 Plus SE (Updated Version)
TLDR: Amazing Tablet for its price. If you don't want to spend a lot of money but need a Tablet the Huion 1060 Plus might be the right choice for you. I would recommend this Tablet to people who want to get started into digital painting. Its a great Tablet with a lot of nice features, great responsive time and overall good quality. Lines are smooth and drawing feels natural. The Size of the Tablet is perfect and its active area and Express Keys make it a nice tool for Digital Artists.
Intro
Huion's drawing tablets offer a nice collection of lower priced drawing tablets and I was pleased to test out the Huion 1060 Plus Model.
The Tablet comes with everything you need to get started with digital painting on a low budget.
I never had any opportunities to test out tablets outside of the Wacom range cause none could match the quality. Since the Wacom Technology is patentet, there is no way for other Companies in using the same way of transmitting the signal from the pen to tablet with electromagnetic resonance. The Huion line's of Tablets use the UC-Logic pen digitizer technology. Therefor the Pen uses a rechargeable Batterie that you recharge from time to time. In my testing I only had to charge it once and so far it has been working.
The Tablet has an Active Area of 10″ x 6.25″ and 2048 Pressure Levels. It reads 233 dots per seconds (response rate) which are very good Performances. The Pen does not need to be superclose to the surface to be recogniced which I heard was an issue on some other Tablets. The Huion 1060 Plus reads the pen at a distance of 15mm.
In the Box
You get the Pen, USB Cable to recharge the Pen, USB Cable to connect Tablet, Pen Holder with Pen Nibs and Pen Nib Remover, Software Driver, Instruction Manual and some Thank You Card.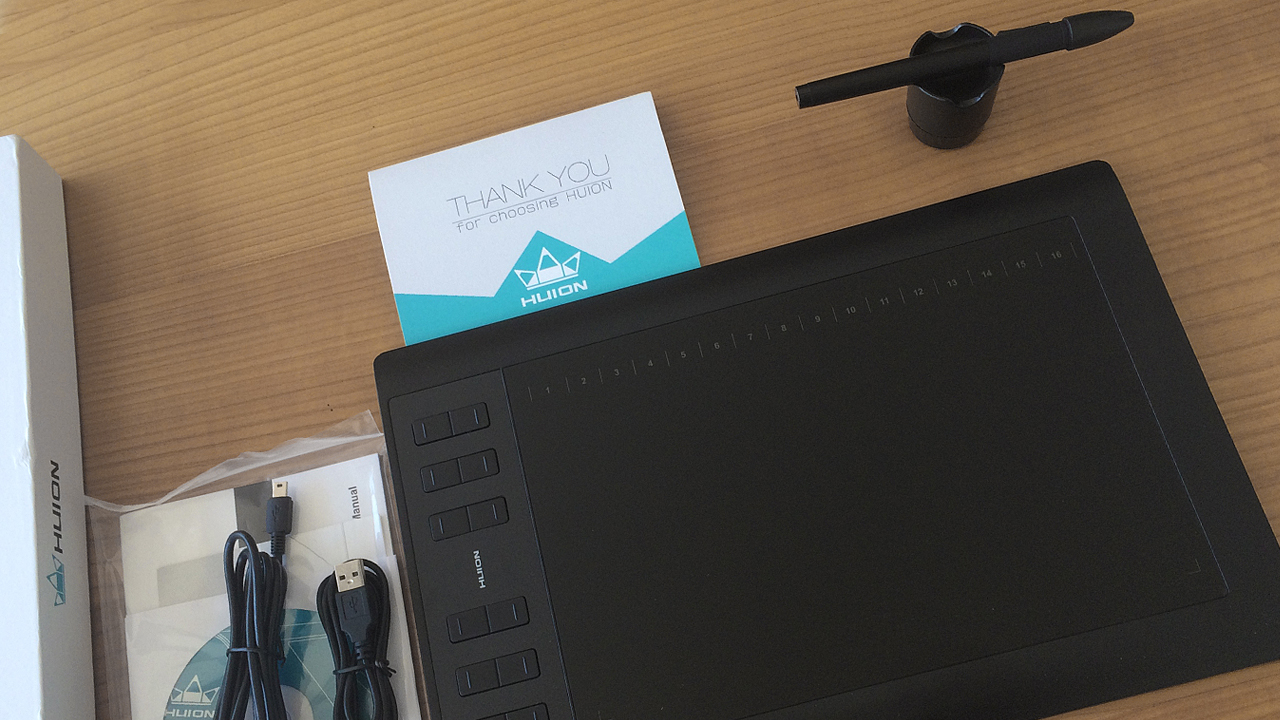 The Pen
Huions 1060 Plus has a rechargeable Pen that gets charged via USB. It claims 3 months of continuous use before needing a recharge. In my test case I charged the pen once and I have never had to recharge it so far. It also has a top Cover which will keep the Pen Nib save. Overall the Pen feels very natural and I really like the overall feeling when drawing on the Tablets Surface. The Buttons feel very responsive and high in quality. On the backside there is no Eraser which does not bother me cause I never used it anyway. The Nibs can be replaced and if you run out of them you can purchase a pack on Amazon. I did not find any information on the Huion Website on how to get replacement Nibs. The only complain I have about the pen is that the front grip felt a little bit too slippery in my hand.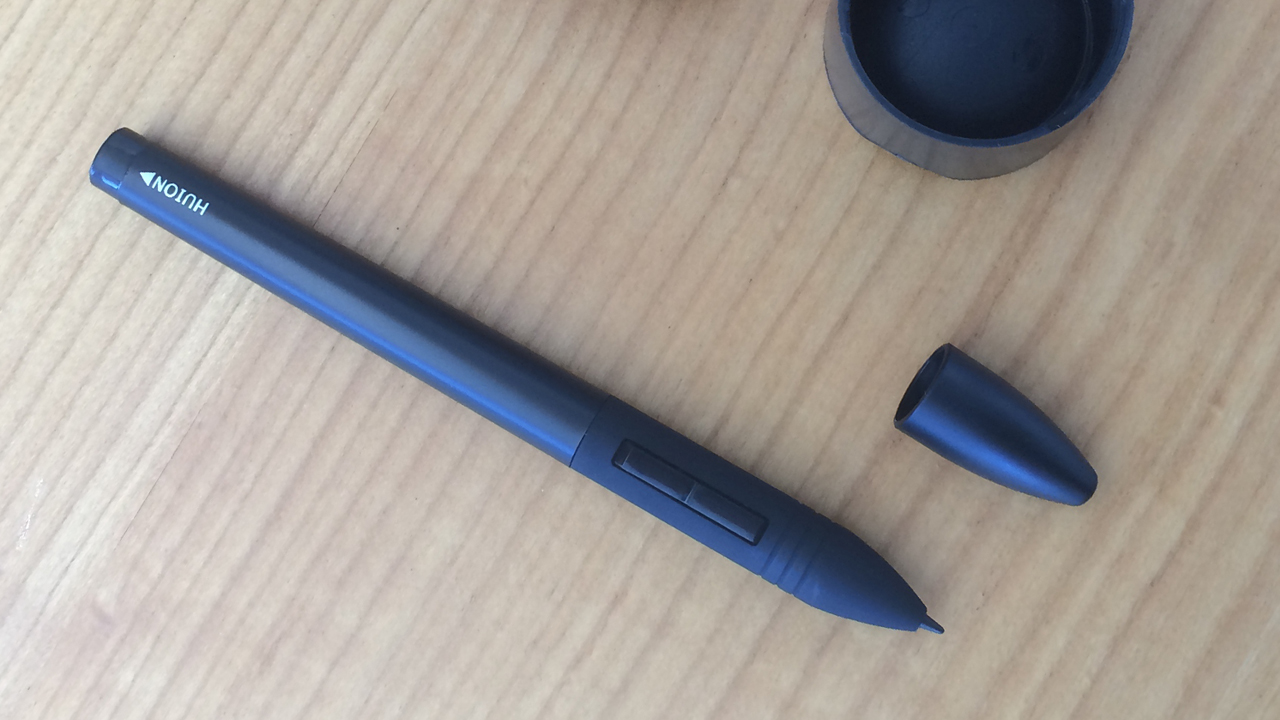 Installation:
After Installing the Driver under Windows10 and Connecting the Tablet, everything worked out of the box. I did not have to do any tweaks except Switching the Buttons to my default settings (Top: Middle Mouse Button – Bottom: Right Click). After making sure the Tablet works I noticed a new Drive on my System. Because the Huion 1060 Plus comes with a micro-SD card reader within the tablet and in my case included an 8gb sd card. (Notice: it mentions only 4GB on amazon, I don't know why it came with 8gb) This is a really cool feature I like. Freelance Artists can put their own Settings, Brushes and Artworks on this and take them wherever they go without having to take any additional hard-drives or making sure your work is somewhere in the clouds. I immediately put Krita on it so I have it ready to run on any system I connect the tablet to.
Tablet
The Tablet performed great in Windows 10. Sadly there is no Linux Drivers so I was unable to test it on my main Linux Machine. For Testing I used an older iMac with Windows10 and the free painting program Krita. Lines looked very smooth and the responsiveness felt really good. I really loved the feeling of the Surface. There was no Lag and I did not experience any Jitters like with other Tablets. I noticed after some time that there seems to be no tilt recognition. I really don't use this feature a lot, but in some cases it is really useful and gives a more natural feeling when painting. 
I was also notified by a few Users that drawing lines slowly with hard pressure would generate Jitters. In Krita I did not notice any jitters and the performance was as good as on my Intuos3. See the attached screenshot that show some strokes I made in Krita.
The Tablet has 12 Express Keys which have some nice presets ready. They feel good and more useful than on other tablets i used. Also you can Setup 16 Quick buttons on the tablet Surface itself. The Active Drawing area will be reduced and you can use the Top Buttons to access Menus or Shortcuts. Similar to an old Intuos2. This is something I remember using back in the days.  So I am a big fan of those.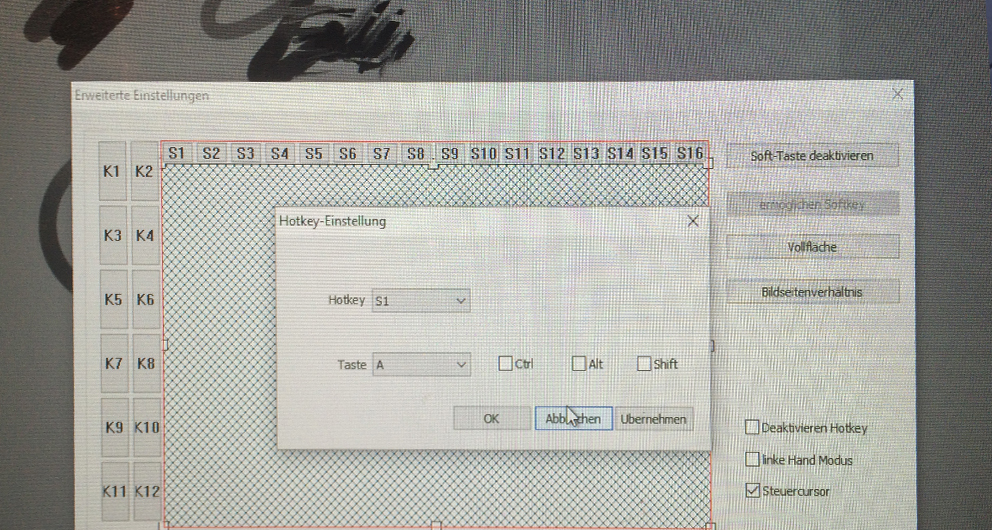 The Driver seems to be very simple. This is my main flaws I have with the Tablet. As it works great from the get go you are kind of limited with the settings. The Driver runs as a task instead of a service which leads it to work only with one user logged in. You cant have another user login while the other one is still logged in with the Driver running. At least that was the case under Windows. I really wish the tablet Driver would just run as a service in the background. Once the Driver Software is not started the Tablet simply wont response. Also I did not find an easy way to setup macro shortcuts for all the Express Keys. There are so many that I really wish I could fully customize them. At the moment the Driver seems to only allow Standard Keyboard Shortcut inputs. It is just missing a few things here. There is also no Option for Multiple Monitors, so no Display Toggle Shortcut can be setup. At least I could not find any Option for this. These are all Software Issues I think Huion can be able to solve. I hope Huion can improve the Software and Drivers further.
If you have any question please feel free to Message me on Twitter: @microbot23
Pros:
– Responsiveness
– Tablet Surface
– Price & Performance
– SD Card Reader
– Express Keys
Cons:
– No Linux Driver available at the moment
– No Tilt Recognition
– No Display Toggle Option and Support of Multiple Monitors in the current Driver?
– Software Driver could need more Options
Final Verdict:
The Huion 1060 Plus is an amazing Tablet if you dont want to spend a fortune. It performs as well as any other more pricey Tablet and I cant say anything Negative overall. It is a really good purchase for its price and you can work with it on a professional level. Unfortunately the Tablet does not seem to have tilt Recognition and the Driver seems to be missing a few options like Display Toggle. I hope Huion can improve in these areas since the overall Hardware felt really good.